Welcome to "Show and Tell Friday!" Do you have a something special to share with us? It could be a trinket from grade school, a piece of jewelry, an antique find. Your show and tell can be old or new. Use your imagination and dig through those old boxes in your closet if you have to! Feel free to share pictures and if there's a story behind your special something, that's even better!
Today's show and tell was an easy choice. I wanted to show the 17 roses that my Hubby gave to me. Not only is that special but you should here the story of how they came about. My MIL was at the grocery store yesterday and there were a bunch of roses by the check-out. She commented to the cashier how pretty they were...here is what happened.
MIL: "Those are very pretty."
Cashier: "You want them?"
MIL: "What?"
Cashier: "We are just going to through them out tonight."
MIL: "Sure....my residents would love them." (not sure if that's exact, but you get the idea."
So she gave some to my Hubby and he gave them to me and she took the others to her residents at the retirement center (She is one of the best activities directors around!) So....I have 17 roses. Isn't that awesome!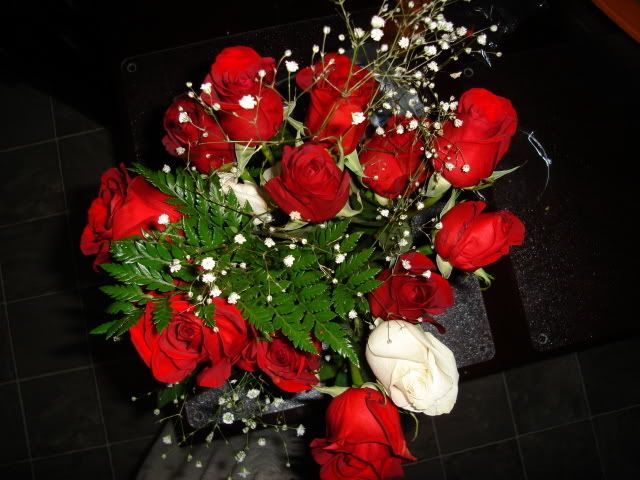 Next I wanted to show the bush we have in front of our home. Do any of you know what type it is? I don't know. (You can tell from the second picture how humid it is outside. It is going to be a VERY hot and humid day.) It's actually 2 bushes because there are light purple blooms on one half and fuschia on the other. Thanks in advance for your help. Now...I am off to see the other show and tells. :) Blessings to all.