Okay....we had a crazy trip. We left two hours late on Friday because of Hubby's car breaking down. So instead of a 5 hour trip, it took us 7 hours. I don't really want to relive all the details, but I thought I would share some pictures and video from the trip. Here is a video of Big T on the way there. By this time we had already been in the van for over 3 hours.
(Yes I realize that his seatbelt isn't on correctly....he must have slid it behind him while I wasn't looking.)
This next picture is of Aunt J helping Sweet E with something new. She loved C's headphones and wore them most of the night. The children were bashful at first, but they soon warmed up to everyone. Titus absolutely loved it when Great Aunt D took him out to see the pigs, cows, and the J@hn Deer*. That made the trip for him.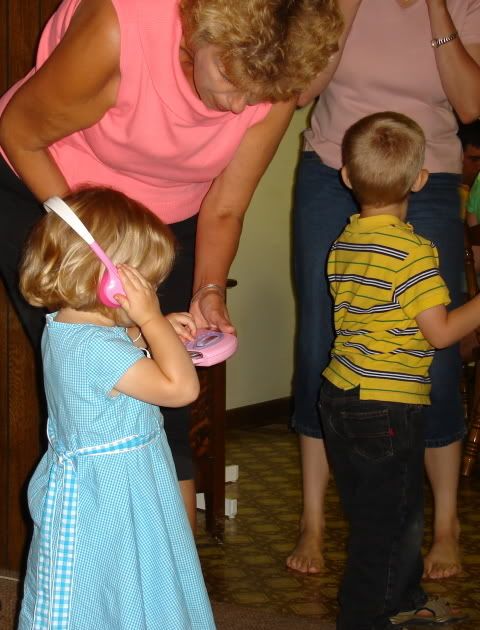 Then I wanted to share a video of Big T jumping on the trampoline with my cousin's daughter, C. The children had a wonderful time playing with C and having a sleepover. It's the first time Big T was allowed to jump on a trampoline and I think he really liked it.

After the children jumped on the trampoline the "big toys" got brought out. Uncle B brought out the go cart and Hubby and I took the children for rides. Here is a picture of Hubby with Sweet E and then a video of myself taking C around. Yep...it's pretty funny. We looked like the Shriners in those little cars, but it was fun. (Just really hard to get in and out.)
Then I wanted to show a picture of Great Grandpa with Little E. It's the first time anyone on this side of the family had seen him. And of course they all agreed that he was the best baby ever. ;) The next pic is just a random shot I took that day and then of course a sleeping picture of Sweet E on the way home from our short weekend.