Puzzleball Globe

96-Piece Children's Globe
For children in the early grades, consider the 96-piece Puzzleball Globe. Large pieces and child-friendly graphics make this a perfect puzzle for a six-year old.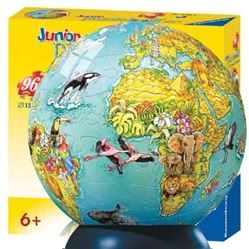 Bright, colorful, and adorned with animals, your young students will get a kick out of assembling and reassembling this puzzle.
Why Give Your Child A Puzzle To Teach Geography?
Puzzles can be educational in so many ways because they stretch your child's brain and improve the way his mind solves problems. While he's solving a puzzle, he's really teaching his brain to work in new ways. As your child solves a geography puzzle he is mentally drilling himself with physical facts, such as what country goes next to the one he has just completed. Unconsciously he is making a number of associations as he searches for the next piece.
More Realistic Than A Flat Puzzle
Flat puzzles of spherical items are easier to assemble, but what if you could hone your geographical skills on something more appropriate, more true to life? Now you can with Puzzleball Globes. These sturdy plastic 3-D puzzles come in different levels suitable to be used with beginners or for a refresher for both your pre-teens and older children.


No Glue Required!
Each Puzzleball Globe comes with beautiful, vibrantly-colored, and perfectly-crafted curved puzzle pieces that allow for an exact fit and are easily assembled with no glue required!! A stand is included to display your work of art, but you will have so much fun putting it together that you shouldn't be surprised if the stand gets little use!
Put out by: Timberdoodle (Publisher: Ravensburger)
***Disclosure: Mama Buzz and reviewers, received a complimentary copy of this puzzle for review purposes.
Big T was so excited when this came in the mail! He wanted to tear into it right then and there. But being a Mama to 4 young children (one of which isn't even 1 month old yet) I wasn't ready for the task. But we let Baby K pose with the puzzle. :-)
I absolutely loved this puzzle. The pieces are plastic (which is the greatest idea every) and you don't need glue. Plus for someone like me trying to help Big T it was great that the pieces are numbered. Not only are they numbered but it even tells you were to place the next piece by looking at which way the arrow points. (I need to add that the first puzzle piece is located by itself in a separate plastic bag. So you don't have to hunt for it! Isn't that awesome?)

Big T really enjoyed putting this puzzle together. He would sometimes try to find the next piece by looking for the image and sometimes he would use the numbers.

Once we completed the puzzle he wanted to take it apart and do it again. Sadly for Big T...Mama said no. I needed to take care of the other children, but I know it will be dismantled shortly and put together again. Once he masters this one I know we will probably purchase one of the large ones to continue to challenge him. There are many Homeschool Supplies that I would absolutely love to get from Timberdoodle. I have a list started already. :-) You all should check it out. Even if you don't homeschool there is a lot of cool things that your children would love. :-)