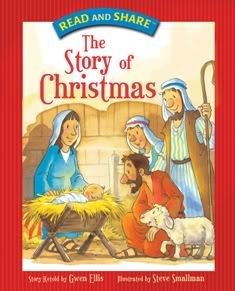 The Story of Christmas
by Gwen Ellis
Illustrated by Steve Smallman
Ages:
4-7
Put out by:
Thomas Nelson
Price:
$10.99
***Disclosure: Mama Buzz and reviewers, received a complimentary copy of this book for review purposes.



The first thing my children noticed was that the book came with a DVD. The y then promptly proceeded to watch the DVD. LOL Honestly...it was much better than I thought it would be. I think they watched it at least two times. The illustrations and writing are like what you find in the
Read and Share Bible
. (Well, it's not like it, it is from the

Read and Share Bible

.) The description from the back cover says:
Young hearts will love the delightful art and simple retelling of the events surrounding the Christmas story. With angels, shepherds, wise men, and Baby Jesus, this book is sure to be a perennial favorite.
The book starts out with the story the angel appearing to Zechariah, the birth of John the Baptist, the angel appearing to Mary, Joseph marrying Mary, birth of Jesus, the wise men, fleeing to Egypt, and their return home. I think our family's favorite part of the book is actually the last 4 pages. They have taken 3 to 4 pictures for every page, from the previous stories, and jumbled them up. The children then study the pages and retells the story by saying which picture happened first. It's fun to watch the children sit and think about what was read to them and how they retell the stories are cute and interesting.
Thank you to Thomas nelson again for allowing me the opportunity to review this children's book.