I know...what a title to start off with right? I was lucky enough to do another review for Timberdoodle and this time it was for the "
My First Brainbox
" and a
Hot Rocket
. (
***
Disclosure: Mama Buzz and reviewers, received a complimentary copy of this game and rocket for review purposes

.
**)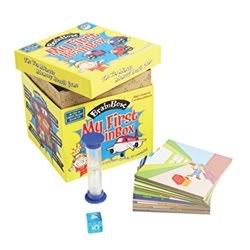 Price: Brainbox- $17.00





From Timberdoodles Website

:


Do You Have a Young Child?

If you have a young child, My First BrainBox should be in your home. With 55 sturdy picture/question cards, it will be a game that can be used for many years, in many ways.
Springboard to Developing Observation Skills
For a very young child each charming illustration can be a springboard to developing fundamental observation skills. If you don't know what to ask, use the questions on the back as your basic starting point. And because most of the colorful illustrations in My First BrainBox are of familiar scenes, the next step would be to have your children study the picture and tell you a story about it. This develops their imagination and logic skills as they strive to make sense of the unknown.
Encouraging Visual Memory

Then, as your child matures, he will be ready to develop both his short and long-term memory, so challenge him to recall the details after he has studied a My First BrainBox card for 10 seconds. A die is rolled, and if your child can answer the corresponding question on the back of the card, the card is his. This will encourage his visual memory and even his auditory processing skills. You know how deficient young children can be in both arenas, and you will be hard-pressed to find another program that addresses these needed proficiencies in such an effortless manner.
Designed for Pre-readers and Beyond
Designed especially for pre-readers, there are no words on the fronts of the cards, just child-friendly images, so My First BrainBox is suitable for any child, even those as young as 3. My First BrainBox is a delightful way for your child to attain so many vital skills

Game Includes:

Total of 56 durable cards in a sturdy box
55 picture/question cards
1 rules/information card
6 questions per card
1 sand timer
1 eight-sided die

Manufacturer's Information
Manufacturer: MindWare
Made In: China
Ages: 3+
Players: 1 or more
Time To Play: 10 minute
I was interested to see how well all three of the older children would take to the game. And...I was presently surprised! I should say that I tried it out on Beloved and myself first. I was surprised at some things I missed on a few of the cards. I had to focus more on all aspects of the picture and not just the "obvious." And when we brought it out for the children ...they had a ton of fun with it. I should probably clarify how it is played a little more...shouldn't I? The person picks a card out of the box, you set the 10 sec timer and they study the picture for those 10 seconds. Then the card is handed to someone else and the individual (who was studying the picture) rolls the dice. You roll the dice to find out what question is to be asked. Sometimes...it's something like... "How many fish were in the picture?" You would be surprised what you remember and don't remember.
Anyway, the children were arguing over who's turn it was. The nice thing about this game is that you can play by the rules given or you can alter them. Sometimes instead of rolling the dice to figure out which question to ask we would just ask all of the questions to see how many they could correctly answer. Another plus is that this can be a very quick game or you can play it for a long time depending on the age of the participants. Sometimes you just don't want to play a game that will take an hour...you know? :-)
Oh...and then there was the
Hot Rocket
! Let me just tell you....everyone had a TON of FUN with it. :-) Myself included. LOL But you do have to be careful with it. Little E got himself in the nose when he let go of it. But it didn't stop him from trying it again and again. I ended up making it a toy that they could only play with when Beloved got home from work. I couldn't keep up with the three older ones wanting to play with it (and reminding them to take turns) and Special K. I think they have played with it every day since it came in the mail.
Price: Hot Rocket- $1.95

Once again I can not say enough of how much I enjoy just browsing the
Timberdoodle
website. Plus right now they have flat rate shipping of $5.95 for orders over $25.
Timberdoodle is giving all my readers a coupon code. Anyone who uses the code "cfreerocket"and orders within a week (by

12/21/09

) gets a free Hot Rocket
! Isn't that awesome? You just need to add the Hot Rocket and the coupon to the order or you can put it in the "comment" section of your order and they will take care of it! Just remember that the rocket can not ship media mail. Come on...who wouldn't love a free rocket. Even if you can't think of a child that would want it...I bet you could think of plenty of adults that would like one. LOL
Remember too that they have a wide variety of
educational games
. Beloved and I are thinking of ordering one or two of the other BrainBox games for the children in the future and I am looking at the possibility of other games to add to our "arsenal" for school and rainy days. They also have
homeschool
curriculum for those of you trying to find something that would work for your family.